---
---
---
---
---
---
---
---
---
---
New Bistro Alert! ECR Folks, Head Here For Yummy Crab Samosas & Caramel Cheese Cake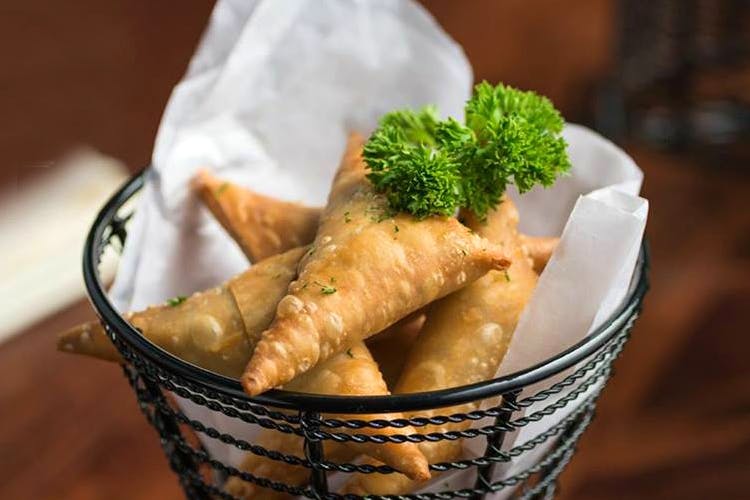 Hub is a cosy little bistro located at the heart of ECR and has something for everyone — from crab samosas to porky pizzas, and dessert too.
Read more
---
From raviolis to lamb shanks, this ECR pitstop is worth the detour
As you drive up to the restaurant, you notice a large pin drop location icon right at the entrance of Hub at Ecr, signaling you have arrived at your location quite literally! The 70-seater joint is a flurry of warm yellow lights and quaint decor elements like a vintage Veedol petrol bunk and a wagon with milk bottles in it.
Hari Chandran along with DJ Navz and Lakshmana Perumal are the three partners manning the newly opened joint on ECR. What's surprising is that the team has taken just 45 days to complete the entire project and open shop. "We wanted it to be a place where travelers can stop at and grab a bite - anything from coffee and dessert to a whole dinner," says Hari. We are welcomed by a refreshing Litchi cooler that has litchi juice, basil, syrup and a dash of ginger that comes together quite beautifully. It's the season of the flu so if you're having a sniffly nose, go for their extra spicy Mediterranean chicken soup which is a warm, tomato-based soup with bits of chicken just about the perfect cure for a cold.
If you are a Pescetarian you'd love their selection of fish starters. We are served some beer battered prawns with Carolina sauce ( a South Carolina style barbecue sauce which is vinegar and mustard based). They're fresh and fried to a golden brown colour. On the list is also crab samosas served with hickory barbeque chutney (a sweet, his sweet, ketchup-based sauce typical of the Oklahoma City barbecue style) and crunchy squid rings with sweet paprika aioli. Parmesan fish fingers were another addition - flaky, soft and buttery served with creamy tartar sauce.
For the main course, we are served the delicious Ravioli di Zucca - pumpkin, bits of carrot and ricotta ravioli in a moat of thyme butter roasted nut sauce. The flavours are earthy, strong but the ricotta and pumpkin balance out the dish completely. Lamb shanks braised with red wine was next. A rich dish, this is served with creamy polenta, buttered vegetable beetroot and braised gravy on top of a gremolata (chopped herb classically made with lemon zest, garlic, parsley and anchovy)
As always, no matter how stuffed you are you always keep a tiny space for dessert. We chose a Classic creme brulee flavoured with coffee and a Caramel cheesecake. I channeled my inner Amelie to crack the brulee giving way to the coffee flavoured creme which was just the right amount of coffee and creme. The Caramel cheesecake was so luscious and velvety, and absolutely instagram-worthy. If you're driving down ECR or on your way to Pondicherry, the Hub at ECR is definitely a pit stop you might want to consider making.